Showings and Lockboxes
The most valuable services a Realtor can provide to a seller is an efficient property access system. The easier it is for agents to access your home, the more showings you will get and the faster it will sell. The majority of your showings will be from Realtors. However, if there are buyers contact you directly without an agent, you should pay close attention to them, since you could save the full 6% commission.
You should use a Realtor Electronic Lockbox whenever possible ($199 rental fee, $80 refundable deposit).  Don't think that only a full price broker can provide a lock box.  We can provide the same lock box for a nominal fee and save your over tens of thousands in listing fees.  The best showing instruction for buyer's agents is "Call & Go", also referred to as "Courtesy Call".  Use a combination keybox only in special circumstances (security and monitoring control issues).  Please let the buyer agent show the home if they bought their clients, leave or stand by when questions are asked. Do not over sell.
Leave the home during Realtor showings
Statistics prove that buyers will rush a showing when a seller is present because they feel uncomfortable and like they are intruding. The less time they spend in the house, the more likely they are to forget it, and the less likely they are to schedule a second showing. Using an Electronic Memory Keybox makes this easier.
Realtor Lockbox (GE Supra i-Box)
It is a device that looks like a giant lock, and attaches to a door handle or doorknob. It has a compartment that contains a key to gain access to the house. It is also referred to as "Supra" Keybox or Lockbox (made by GE).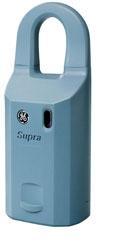 The three (3) reasons why you should use a Realtor Lockbox: 1) Security and Control: Realtor's Lockboxes can only be opened by a Realtor with an electronic key. Every keybox has a unique S/N number, and all Realtors have their own unique electronic key. All keyboxes and electronic keys record access information. If there is ever a problem, we can find out exactly who entered the home and at what time. Another desirable feature is that Electronic Memory Keyboxes can't be opened by anyone after 9pm or before 9am. 2) Save you time: you don't need to be home during showings.  3) Avoids missed showings:  If an agent is required to make a confirmed appointment to show a house because there is no Keybox, there is a good chance the agent and you play phone tag.  Even when the agent reaches you to make an appointment. You sit around and wait, but the agent never shows up. You call the agent and get a voicemail, and the showing is never rescheduled.  There are some agents skip homes without Keyboxes altogether.
Electronic Memory Keyboxes are available in all MLS areas except Hudson MLS.
Combination Keybox (special circumstances)

There is the same "phone tag" problem with combo keyboxes as with calling for an appointment, because the agent has to reach you for the combination. Another problem is lack of access control, because once someone has the combination, they can give it someone else, or come back themselves any time without you knowing. You also never know for sure if the person you are giving the combination to is an agent.
You can sometimes get by with a combo keybox in areas where eShowings.com is available, because at least eShowings.com can give out the combination and you can avoid the "phone tag" problem. Also, with eShowings.com, agents need to give their security code before getting the combo, and eShowings.com records all showings and who the agent was.
The Master Combo keyboxes are available at Home Depot, but using Realtor lockboxes are highly recommended over the combo keyboxes.